ABOUT TEJA
GetOffensive founder Teja VanWicklen is a 30-year veteran of martial arts with a background in edged weapons, firearms and wilderness survival; she was a personal trainer for over 12 years and is a certified Emergency Medical Technician (EMT). Teja is also the ADHD mom of an ADHD son.
Teja has been an instructor and a stunt performer; she has trained with elite military personnel; she has engaged in a number of training exercises she doesn't necessarily recommend others try and has had experiences she might have been happier (though not necessarily smarter) without–dodging live darts, fighting through pepper spray, feeling the full-body jolt of a Taser.
Teja has been featured in multiple magazines including Madmoiselle and Black Belt, and interviewed on Television for ESPN, Nancy Grace, Good Day New York and Veria Living TV among others.
Teja traveled the world managing a martial arts performance troupe out of New York City that created and performed over a hundred staged stunt performances for major events, pharmaceutical conferences, film festivals and movie premieres (The Matrix Reloaded, Star Wars: Attack of the Clones). During the same period she leaped on a melon in a grocery store for a South West Air Super Bowl commercial and assisted the choreographers of films like Confessions of a Dangerous Mind, directed by George Clooney, and The Hunted, starring Tommy Lee Jones.
Teja was a founding member and lead writer for Conflict Manager Monthly, an online magazine run by a collective of well-known safety professionals who navigate the dark and labyrinthine territory of violence and conflict.
Just as Teja was studying for her certification to train law enforcement and military personnel she became pregnant. She was chronically nauseated, required hernia surgery at the end of her second trimester, contracted a blood born strep infection and lost hard-earned muscle.
Dazed and exhausted, she wondered when her training had ever covered running away from danger pregnant or fighting off a determined mugger with a baby in a sling? What were the answers to any number of disturbing scenarios? How had years of instruction missed such crucial, every-day reference points. Didn't lots of people have kids? Injuries? Extenuating circumstances?
It seemed that teaching a pregnant woman with a toddler in tow how to fight off two attackers with knives was rather like teaching someone how to survive a car accident without ever teaching them to drive.
As she delved deeper it became clear that physical self-defense was at the end of the continuum of safety and that other skill sets needed to take priority. Women's self defense could and should be a vehicle for physical and emotional empowerment. So the work began.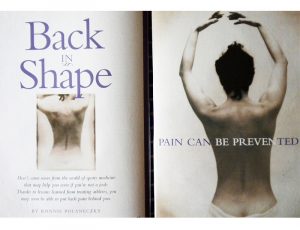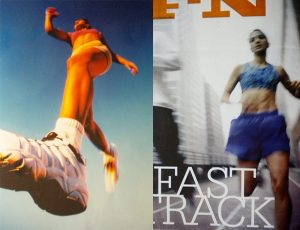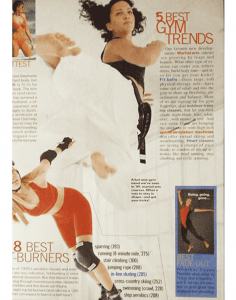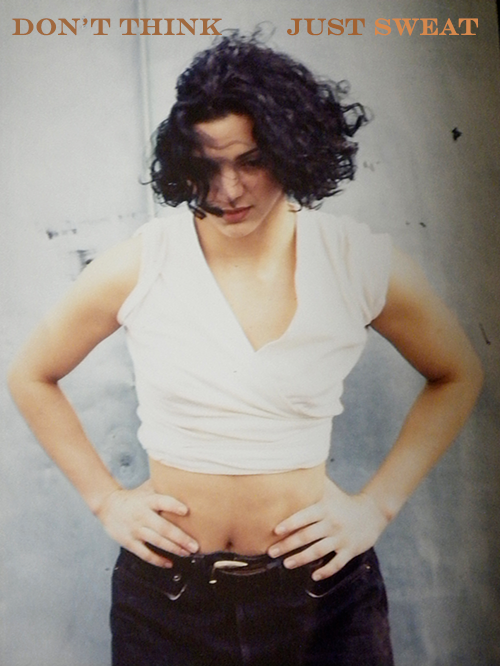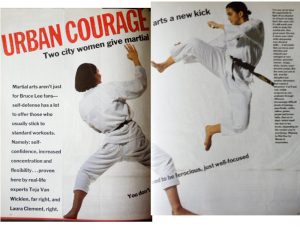 "I LOVED this weeks training with Teja. She brought up so many things I'd never thought about – like [the ways] little girls are taught to 'hang back' and little boys become more equipped to deal with aggression even at a young age… this is so true! very good info, Teja, am looking forward to the next session!"
"This is a college course in self-defense… so impressive in scope and depth and with such an acute understanding of women's issues. It will be my gift to every woman I know."
"I'm learning so much and I love it! And it's not just the course content itself that is great, it's the interaction in the [community] group, the discussions, the disagreements… life experiences, the support… and the fun as well!  Thanks Teja."
QUOTE:
Teja: "Practice discomfort.
Don't be afraid of being uncomfortable, consider it a time to explore yourself.
Adaptability is how we got this far. Too much air conditioning and heated seats
will weaken your ability to adapt and excel."
__________________________________
Join Teja for the SECRETS OF WOMEN'S SELF DEFENSE online course!